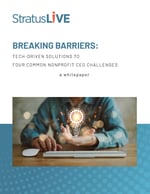 Breaking Barriers: Tech-Driven Solutions to Four Common Nonprofit CEO Challenges
Are you struggling to engage the modern, digital donor? Do you find yourself questioning how to measure engagement in a fundraising environment that continues to evolve?
These are only a couple of the challenges nonprofit CEOs face today. Despite these challenges, these leaders bravely explore new territories all in the name of mission fulfillment.
Within our guidebook, we outline the four common challenges nonprofit CEOs face today and offer tech-driven solutions including:
Offering multiple engagement options for donors
Selecting systems and technology that allow for a 360-degree view of your donors
Eliminating outdated or unwanted legacy systems and more
If you want to leverage tech-driven solutions to inform future fundraising strategies and inspire your larger community, this whitepaper is for you!